Omemee news,events,and views from Greater Omemee Area, Ontario, Canada. Covering rural news between Peterborough and Lindsay. Submit your news!

Thursday, April 28, 2011
Omemee Politician Backs Local Biz - Council Vetoes- Who Profits?
Mitt Romney USA Profits From Kawartha Lakes Tax Dollars: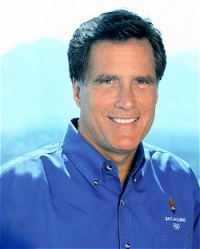 Watching Council - Online Investigative Report
Omemee Pigeon eFlyer exclusive by Suzanne Sholer
Where are our tax dollars going? After reading Councillor Ron Ashmore's motion to support a local business with our tax dollars was turned down, I was curious to find out who was benefiting from the city's office supply purchases.
At first glance, where the City of Kawartha Lakes shops for paper clips, may seem like small potatoes , but can you imagine how much money goes out of our taxes in paper, pens, toner, ink, etc. each year? How much of a difference could it make to our local economy if our tax dollars were spent locally ? I set out to discover where our tax dollars are going and who is profiting from these sales.
In this week's Lindsay Daily Post , Lisa Gervais reported:
Ward 14 Coun. Ron Ashmore wanted Kawartha Lakes Business Equipment to be able to visit the city to see if it has any office supply needs.
The local business was awarded the contract for store front walk in purchases. That means if the city can`t get something from Corporate Express via web based ordering, it should go to Kawartha Lakes Business Equipment. However, Ashmore wanted an assurance the visiting could be reciprocal. His motion to that effect was defeated 9-8.
Exactly who owns Corporate Express?
What is Corporate Express?
http://www.corporateexpress.com/ Yields the following message from Staples Business Depot
CorporateExpress.com has moved.
You can still place your orders on EWay.com. Also, be sure to visit StaplesAdvantage.com for all the helpful products and services we can offer you.
About Staples Inc.
From Staples Website:
Staples is the world's largest office products company. We're committed to making it easy for our customers around the globe to buy a wide range of office products, including supplies, technology, furniture, and business services. With $23 billion in sales, Staples serves businesses of all sizes and consumers in 27 countries throughout North and South America, Europe, Asia and Australia.
Who owns Staples Inc ?
A search for "Who owns Staples Inc. ?" Reveals
W. Mitt Romney former Governor of Massachusetts is the majority holder of hundreds of companies, including Staples,
Domino's Pizza, Bright Horizons Childcare, Sealy, FTD Florists, Brookstone, and The Sports Authority. Romney's claim to national fame came in 1999, when an inquiry into corruption found that the two top officials who led Salt Lake City's bid for the 2002 Winter Olympics had
actually paid bribes of more than $1 million to 24 members of the International Olympic Committee
.
Is this where you want your tax dollars to go? If not, take action!
Contact your local council member Now
and demand your tax dollars be spent locally. Demand your money stay in your community.
Watching Council - Online Investigative Reporting is a weekly column in the Omemee Pigeon eFlyer focussing on the activities of City of Kawartha Lakes Councillors representing Wards 12,14,15,16. See a map showing all the wards of City of Kawartha Lakes
HERE.
Resources Accessed April 27th 2011
http://www.corporateexpress.com/
Suzanne Sholer is a parent, author, professional speaker, and social media enthusiast living in the village of Omemee. Suzanne strongly believes in the economic importance of shopping local, and supporting small independently owned businesses. Ms. Sholer, a prolific writer with over forty blogs, promotes pyschology-based marketing tips at Minute to Market, and writes social media advice on Blogged Tips. She is also the founding editor of the Omemee Pigeon eFlyer.
F.A.Q.
(Frequently Asked Questions) Choose your favourite and
send a letter to the editor.
1. Why isn't this paper being run on a "dot com"? 2. Who is running this paper? 3. Why do you have Google ads on here? 4. Where can I get a print copy of this paper? 5. How can I help make this paper even better? 6.I'd like to buy you a coffee.Where can I send a donation? Thanks! Every bit helps!

Who Reads Omemee Pigeon eFlyer?
You do! Most readers are from our direct area,but people the world over do read Omemee Pigeon eFlyer. We currently have over 2,000 accounts getting our headlines,and almost 100 daily email subscribers. Not bad for a little eZine just starting out. We are especially excited about the
writers
joining in this project!